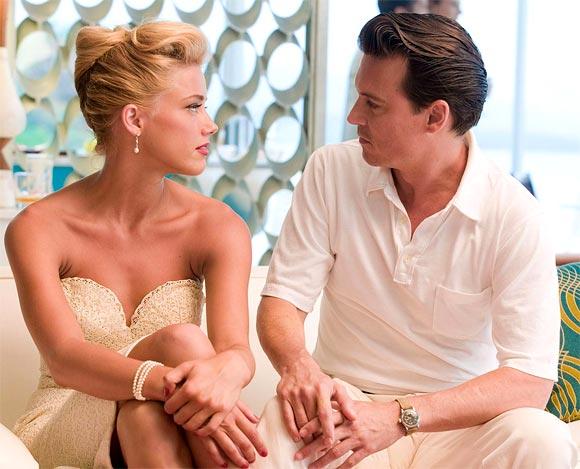 Image via Rediff.
How do you rate it?
Gold Digger?
I came across another
Amber Heard
story, claiming that her relationship with
Johnny Depp
is nothing but a business arrangement. Apparently the
Lone Ranger
actor promised the hot blonde that he'll help turn her into "the next
Angelina Jolie
." The anonymous source also says that they are both getting tired of each other because their little deal is not working out so far. Here is what else
The Enquirer
's insider revealed:
"
Johnny Depp's romance with bisexual beauty Amber Heard is already on the rocks! Sources say Amber, 27, resents the 50-year-old actor's controlling nature, and she's finding life with the Lone Ranger star to be boring.
Depp is so desperate to keep her, a source says he's even given the switch-hitting sexpot a green light to hook up with women. "Johnny accepts the fact that Amber has other needs, so he's told her it's OK for her to be with women when she has the urge," an insider told the Enquirer. But Johnny and Amber are in a bad place right now.
PHOTO: Amber Heard & Johnny Depp
"When they first started dating, he promised to help her become the next Angel[l]ina Jolie, but Johnny simply hasn't followed through. Instead of finding exciting projects for Amber, or introducing her to Tinsel Town movers and shakers, he seems to block her from moving forward in her career.
"Apparently, she was offered the lead in the film version of the raunchy book 50 Shades of Grey," but Johnny told her to say no to it because it would be too smutty."
The two met while co-starring in the 2009 film The Rum Diary and have been an item since Depp's 14-year love affair with French singer Vanessa Paradis ended in June 2012. But Johnny has kept Amber cooped up in his Hollywood mansion, and she hates it, according to the source.
"It was cute for a while," noted the source. "Amber liked cooking for Johnny and watching old movies with him. But now she's bored out of her mind."
The couple's troubles came to a head while they were on a press jumped in Japan to promote The Lone Ranger, a box-office bomb that critics have mercilessly slammed. "The whole trip was a disaster, and Johnny and Amber got into a huge fight on the flight home," said the source.
"She pointed out how much she's given up to be with him and admitted that she misses her old life. Johnny's been super stressed about the movie and just snapped, telling Amber that she was lucky to be dating him."
QUIZ:

What do you think of their relationship: FAKE or REAL? (below)
But Depp soon changed his tune, said the source. "The promised Amber he'll make things more exciting for her, and he's still dangling the carrot of introducing her to agents and other key players," added the source.
"Amber's sticking around, hoping Johnny will be true to his word. But she's not going to wait much longer."
"